The scores of our wines for the Guía Peñín 2020 have already been revealed
The prestigious publication Guía Peñín 2020 has already been published, so we already know the scores given to our wines for this year's edition.
The Guía Peñín is, without any doubt, the most complete Spanish wine reference guide that exists and it has more than 25 years of history and half a million copies sold, which make it an essential place to be for any winery.
That is why we are proud to announce that the six wines that we present this year have been included in the publication getting very good scores that have varied very little between them (they are all between 86 and 87 points).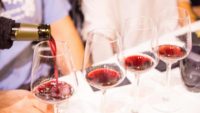 Let's start with the wines that have been scored by the guide with 86 points.
Senda de las Rochas Bobal 2016 has been defined as a red wine with an intense cherry color, an aroma of ripe fruit and dried herbs, spicy and sulfur, and also an spicy flavor reminiscent of ripe tannins.
Mizaran Blanco 2018 has been the only white wine that we have decided to include in the guide, and they have classified it as a pleasant and fresh wine (that is why we believe it is a perfect wine to enjoy it in summer), aromatic and floral
Senda de las Rochas Bobal 2014 has received the same score as the other wine of its line having for the jury a dark cherry color with the garnet edge, a scent of candied fruit and tobacco, which also reminds of that of a joinery, and that It has been defined at mouth in the same way as the Senda de las Rochas Bobal 2016, spiced with ripe tannins.
In addition, with this same score we can find the Mizaran Tempranillo 2014, an aging wine that has left the jury sensations of both color and nose and mouth very similar to those of the two reds named above.
On the other hand, now we will talk about our wines punctuated with 87 points.
La Sima 2018, our young red wine that has been defined by the tasters as fruity, herbal, fresh, tasty and correct, and Senda de las Rochas Crianza 2010 (which has achieved the highest score within the Senda de las Rochas line), a red wine made from a Tempranillo grape in which experts have appreciated a dark cherry color with a garnet edge and from which they have valued their fruit aroma to liquor, in addition to joinery and tobacco, and its sensation in the mouth to spices.
And you, after reading the opinions of the experts, which wine would you like to taste? And if you have already tried them, do you agree with the conclusions of the jury?